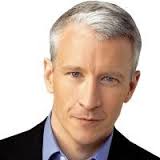 Anderson Cooper of CNN – VIA PHONE in Hr 1 on his new book & TV special, "THE RAINBOW COMES AND GOES: A Mother and Son on Life, Love, and Loss"
Bob Cesca of the Bob & Chez podcast & The Daily Banter (among others) in for Hr 2
Carlos Alazraqui of Fox's 'Bordertown' & 'The Sexy Liberal Show' IN STUDIO for Hr 3
Top Stories
If you're on the East Coast, and you can't hear anything on your phone now, you can blame the corporate executives who've forced nearly 40,000 union workers at Verizon to start their labor strike today. That potentially unsteady communication could add to the headaches in New York City, Trump protestors will attempt to shut down a Trump event this Thursday, as the Democratic candidates debate in Brooklyn.
The New York Daily News officially endorsed Sec. Clinton today, while Sen. Sanders picked up his first Senate endorsement, from Sen. Jeff Merkley.
Speaker Paul Ryan also officially announced he will not accept the nomination of his party, if they try to give it to him at this summer's GOP convention. Of course, Ryan also said similar things before he became Speaker of the House, so…
Meanwhile, the fight for equality continues in the states, even as businesses keep leaving those states that have just passed anti-LGBT laws.