• The Rude Pundit calls in at 9:30am ET / 6:30am PT to talk about the government shutdown in the rudest way possible
• Charlie Pierce of Esquire's Politics Blog calls in at 10:30am ET / 7:30am PT to ask where the gutsy Republicans are when it comes to ending the shutdown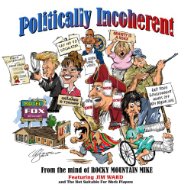 • Rocky Mountain Mike calls in at 11am ET / 8am PT to tell us about the release of his comedy album, "Politically Incoherent"
• Conservative radio host Michael Medved calls in at 11:30am ET / 8:30am PT to talk about The Great Debate 3 in Chicago with Steph
• With the government shutdown entering week 2, the focus of ending a stalemate is shifting to the upcoming deadline to increase how much the federal government can borrow. A White House reference to the length of a debt ceiling deal caused speculation that they might be signaling flexibility on the issue to legislators.
• A new poll from Washington Post/ABC News found that disapproval of GOPers is up to 70% among American adults from 63% approval at the end of September. Disapproval of Dems is up to 61% from 56% at the end of last month.
• A top Chinese official chided DC on Monday about the government shutdown and the debt-ceiling impasse, fretting that the political gridlock could leave the economy of America's top foreign creditor in a jam.