• Political Strategist Karl Frisch calls in at 9am ET / 6am PT to talk about the politics behind Syria and the Navy Yard shooting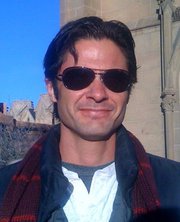 • Bob Cesca of The Daily Banter calls in at 11:30am ET / 8:30am PT to talk about what could have been done to stop the Navy Yard shooter
• Sources say Aaron Alexis left behind two short phrases on the side of the shotgun used in the Washington Navy Yard massacre. One of the messages scratched into the gun's metal reads, "Better off this way." The other is more cryptic: "My ELF weapon." Investigators don't know what the etchings mean.
• Syrian President Bashar Assad said yesterday that a United Nations report finding "clear and convincing evidence" sarin nerve gas was used in Syria painted an "unrealistic" account, and he denied his government orchestrated the attack.
• After watching the cost of food stamp assistance soar during the recession, the Republican-led House of Representatives today plans to vote on a bill to cut the food stamp program by a whopping $40 billion over 10 years.
• One Powerball ticket has matched all six numbers in the latest drawing for the estimated $400 million jackpot. The winning numbers selected Wednesday night were purchased at a gas station in Lexington, S.C.