• The Rude Pundit calls in at 9:30am ET / 6:30am PT to talk about why the Far Right thinks that God hates ObamaCare
• Eric Boehlert of Media Matters calls in at 10am ET / 7am PT to talk about the madness behind the GOP's government shutdown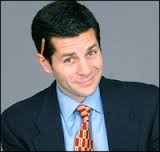 • Comedian Dean Obeidallah calls in at 11:30am ET / 8:30am PT to talk about why Ted Cruz is the Miley Cyrus of the Senate
• DC is deadlocked as it enters the 14th day of a partial government shutdown that has already led to furloughs of 350,000 federal workers, canceled military training missions and slowed economic growth. Now, the U.S. is just days away from losing its ability to borrow money and faces the prospect of defaulting on its bonds.
• A Tea Party-led protest against the government shutdown that started at the World War II Memorial ended up in front of the White House yesterday, where some protesters waved Confederate flags. Police, some in riot gear, were called in with members of the crowd heckling them, calling them "brown shirts," opining that the unit "looks like something out of Kenya."
• Former Arizona congresswoman Gabrielle Giffords, who was gravely wounded in a 2011 mass shooting that killed six and injured 12 others, attended a New York gun show Sunday to draw attention to voluntary background checks for buyers.