• Dean Obeidallah, columnist for "The Daily Beast", calls in at 9:30am ET / 6:30am PT to talk about Dems in the 2014 election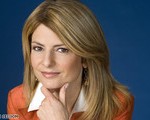 • Legal analyst Lisa Bloom calls in at 10am ET / 7am PT to talk about Ferguson and about the Oscar Pistorius case
• Health care reform expert Jacki Schechner joins us in the Los Angeles Bureau at 11am ET / 8am PT for "Jacki's Healthcare Corner"
• A passenger who arrived at Newark Liberty International Airport from Brussels on United flight 998 Tuesday was being evaluated for possible symptoms of Ebola, according to the Centers for Disease Control and Prevention.
• The freelance cameraman who contracted Ebola while working with NBC in Liberia is now disease free, he tweeted yesterday. The medical center announced today that he was free of the disease and would be released from the hospital on today.
• The FBI tracked down three American teenage girls in Germany while they were en route to Syria to join militant groups. The Denver-area girls were trying "to fulfill what they believe is some vision that has been put out on a slick media campaign" by radical groups in Syria the official said.
• Bristol Palin said the drunken brawl involving her family at a house party last month was started when she was defending her younger sister, newly released audio reveals.