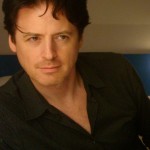 • Sexy Liberal John Fugelsang joins us in the Los Angeles Bureau at 9am ET / 6am PT for all three hours today
• Political strategist David Bender joins us in the Los Angeles Bureau at 10am ET / 7am PT to talk about the Tea Party's effect on this year's elections
• Secretary of State John Kerry said Tuesday that President Obama is fully prepared to use American military might to help the Iraqi government push back Sunni Islamic militants sweeping across the country's west, but not "in a vacuum" of Iraqi political power.
• In Mississippi, six-term U.S. Sen. Thad Cochran held off tea party-backed challenger Chris McDaniel, in an ugly race marred by name-calling, mudslinging, allegations of cheating and a break-in at the nursing home where Cochran's bedridden wife lives.
• In New York, U.S. Rep. Charlie Rangel claimed victory in what he says is his last race, looking like he'll survive a second straight narrow victory against the same opponent he faced two years ago. But Rangel's challenger, state Sen. Adriano Espaillat, wasn't conceding early Wednesday.
• President Obama and his administration "haven't done a damn thing to help" the investigations into the inappropriate way the IRS targeted certain political groups, House Speaker John Boehner, R-Ohio, complained on Tuesday.