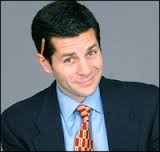 • Comedian Dean Obeidallah calls in at 9:30am ET / 6:30am PT to talk about the GOP's latest attempts to bully the media
• Sexy Liberal Hal Sparks joins us in the Los Angeles Bureau at 10am ET / 7am PT for an hour of Humpdays With Hal
• President Obama wrapped up his Western swing with an appearance on NBC's "Tonight Show." In a wide-ranging interview with the late night talk show host, Obama discussed recent terrorist threats, Hillary Clinton, and the NSA controversy.
• President Obama in Phoenix on Tuesday said it is time to wind down pseudo-government institutions Fannie Mae and Freddie Mac so that the economy never goes through a never housing bubble.
• The house where three women were held captive and raped over a decade by Ariel Castro faces complete demolition this morning in Cleveland.
• Army Pfc. Bradley Manning's possible sentence for disclosing classified information through WikiLeaks was trimmed from 136 years to 90 years Tuesday by a military judge who said some of his offenses were closely related.
• Mitt Romney jumped into the debate over the GOP's future Tuesday night, warning congressional Republicans against forcing a government shutdown in their quest to stop President Obama's signature health care law.