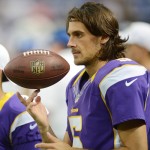 • Former Vikings kicker Chris Kluwe calls in at 9:30am ET / 6:30am PT to talk about his settlement with the team over their alleged anti-gay behavior
• Lily Eskelsen Garcia, president-elect of the National Education Association, joins us in studio at 10:30am ET / 7:30am PT
• Actor and comedian Carlos Alazraqui joins us in the Los Angeles Bureau at 11am ET / 8am PT for Coffee With Carlos
• Police and protesters in Ferguson were finally able to share the streets again at night, putting aside for at least a few hours some of the hostility that had filled that time on previous nights. Tensions did rise briefly. But the overall scene was more subdued than on the past five nights.
• The Islamic extremist group that has overrun parts of Syria and Iraq released a video Tuesday that apparently shows the beheading of American journalist James Foley. The militant group also threatened to kill another U.S. journalist if the U.S. does not halt its airstrikes in Iraq.
• Gov. Rick Perry, R-Texas, turned himself in Tuesday afternoon to be booked and have his mug shot taken at the Travis County Justice Center. The governor was indicted last Friday on two felony counts of abuse of power, which he called "baseless political charges."
• Crews rescued residents and motorists after a monsoon surge that brought extensive flooding to Arizona, trapped residents in their homes and closed a major freeway in Phoenix.