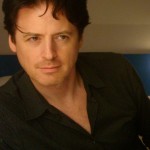 • John Fugelsang, host of "Tell Me Everything" on SiriusXM Insight 121, calls in at 10am ET / 7am PT to hang with us for the hour
• Comedian and actor Carlos Alazraqui joins us in the Los Angeles Bureau at 11am ET / 8am PT for "Coffee With Carlos"
• Hillary Clinton again vigorously defended herself yesterday at a press conference in Las Vegas, repeating twice that she did not send classified material or receive material "marked or designated" as classified through her private email account, and again said her use of private email was legal.
• Former Florida Gov. and current GOP presidential candidate Jeb Bush said Tuesday that birthright citizenship is a "constitutional right," casting doubt on fellow 2016 candidate Donald Trump's plan to do away with it.
• The FDA has approved the first prescription drug treatment to boost low sexual desire in women. The decision to approve the drug came late Tuesday after months of lobbying and debate over the drug's effectiveness and side effects. It's expected to hit the market in October.
• Longtime Subway spokesman Jared Fogle is expected to plead guilty Wednesday to child-pornography charges. The development comes six weeks after authorities seized electronics and other items from Fogle's home in suburban Indianapolis.