• The Rude Pundit calls in at 9:30am ET / 6:30am PT to cast aspersions on Rep. Louie Gohmert's asparagus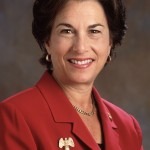 • Rep. Jan Schakowsky (D-IL) calls in at 10:30am ET / 7:30am PT to talk about running ON ObamaCare, rather than running FROM it
• Sexy Liberal Carlos Alazraqui joins us in the Los Angeles Bureau at 11am ET / 8am PT for another edition of Coffee With Carlos
• A ship searching for the missing Malaysian Airlines jet has detected two more underwater signals that may be emanating from the aircraft's black boxes, and the Australian official in charge of the search expressed hope Wednesday that the plane's wreckage will soon be found.
• Oscar Pistorius testified for a third day Wednesday at his murder trial, returning to the witness stand after breaking down in sobs and wailing a day earlier while describing the moments he said he realized he had fatally shot his girlfriend by mistake.
• President Obama prodded Republicans to support paycheck fairness legislation in the Senate Tuesday, following his own executive orders that he says will help reduce the pay gap between men and women.
• The war of words between Attorney General Eric Holder and Republican Rep. Louie Gohmert, a tea party lawmaker from Texas, escalated once again on Tuesday during a House Judiciary Committee hearing, with Holder telling Gohmert, "Good luck with your asparagus."