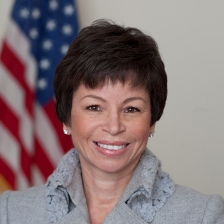 • Valerie Jarrett, Senior Advisor to President Obama, calls in at 9:30am ET / 6:30am PT to talk about solutions for working families
• SiriusXM Insight 121 host Dean Obeidallah calls in at 10am ET / 7am PT to talk about the lying ways of the NRA's Wayne LaPierre
• Comedian and actor Carlos Alazraqui joins us in the Los Angeles Bureau at 10:30am ET / 7:30am PT for "Coffee With Carlos"
• President Obama officially removed Cuba from the State Department's list of state sponsors of terrorism, the White House announced. Cuba was one of 4 countries on the U.S. list of nations accused of supporting global terrorism. The countries still on the list are Iran, Syria and Sudan.
• Hillary Clinton made her first official campaign stop in Monticello, Iowa yesterday. The Democrat held a low-key roundtable with students and educators at Kirkwood Community College, where she laid out four specific priorities of her campaign, including campaign finance reform.
• A 73-year-old reserve deputy turned himself in at the Tulsa, Oklahoma County Jail today on a second-degree manslaughter charge in connection with the deadly shooting of a suspect. Robert Bates, an unpaid, volunteer reserve deputy, "shot the victim with a Smith & Wesson Revolver which at the time he shot it he believed it to be a Taser gun," according to court filings.