• Michael Tomasky of The Daily Beast calls in at 10am ET / 7am PT to talk about the religious right's slow-motion suicide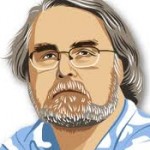 • Charlie Pierce of Esquire's Politics Blog calls in at 10:30am ET / 7:30am PT to talk about the deviousness of the Koch Brothers
• Voice Deity Jim Ward joins us in the Los Angeles Bureau at 11am ET / 8am PT for Maximum Mookage
• The man who scaled the White House fence and was able to run through the front doors made it farther into the building than was previously reported. Secret Service Director Julia Pierson is scheduled to answer questions about the incident this morning on Capitol Hill.
• ISIS is tightening its grip on the Syria-Turkey border. Kobane, in Syria, is a Kurdish city and it is nearly surrounded. Tens of thousands of residents have fled across the border, and the Kurdish defenders left behind seem both outgunned and outmanned.
• A divided Supreme Court has put off the start of early voting in Ohio, which had been set to begin Tuesday. The justices' order by a 5-4 vote Monday granted a request from GOP state officials to wipe out a week in Ohio when people could both register to vote and cast ballots.
• Walmart says Tracy Morgan wasn't wearing his seatbelt during a New Jersey wreck with its truck that left the former "30 Rock" star with serious injuries.