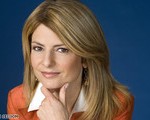 • Attorney Lisa Bloom of Avvo.com calls in at 9:30am ET / 6:30am PT to talk about which GOP candidates are running against the Constitution
• Charlie Pierce of Esquire's Politics Blog calls in at 10:30am ET / 7:30am PT to talk about the loopy GOP investigation into the Planned Parenthood videos
• Podcaster Jody Hamilton joins us in the Los Angeles Bureau at 11am ET / 8am PT for "Total Trollop Tuesday"
• President Obama and Russian President Vladimir Putin sharply disagreed Monday at the UN over the chaos in Syria, with Obama urging a political transition to replace the Syrian president but Putin warning it would be a mistake to abandon the current government.
• In Planned Parenthood's first congressional appearance since surreptitiously recorded videos appeared, President Cecile Richards is expected to say today she is "proud" of its provision of fetal tissue for research, but will also seek to minimize the organ donations as a small part of its work.
• House Majority Leader Kevin McCarthy (R-CA) announced Monday that he is officially running to succeed House Speaker John Boehner, R-Ohio, when Boehner retires next month.
• Vice President Joe Biden will be able to participate in the first Democratic presidential debate October 13th, even if he waits until the very day of the debate to announce he's running for president, CNN said in a release Monday.