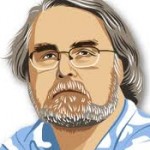 • Charlie Pierce of Esquire's Politics Blog calls in at 10:30am ET / 7:30am PT to talk about Rand Paul's shifting views
• Bob Cesca of The Daily Banter calls in at 11:30am ET / 8:30am PT to talk about the ugly side of the NFL
• U.S. officials said Monday the United States has taken the first step in its planned expanded fight against Islamic State of Iraq and Syria (ISIS) militants, conducting airstrikes to aid of Iraqi security forces near Baghdad who were being attacked by enemy fighters.
• The Obama administration will assign 3,000 U.S. military personnel to West Africa "to combat and contain" what senior administration officials call an "extraordinarily serious epidemic" with the Ebola outbreak.
• Minnesota Vikings player Adrian Peterson has issued a statement after being charged with child abuse and says he is "sorry about the hurt I have brought to my child." Peterson was charged last weekend after he struck his 4-year-old son with a tree branch as a form of discipline earlier this summer.
• Hurricane Odile snapped palm trees like twigs, washed out roads and left tourists trapped in Mexican resorts Monday. Even as it weakened into a Category 1 hurricane, the storm threatened to bring torrential rains and flooding as it moved over Baja California and closer to the American Southwest, forecasters said.