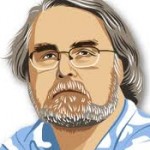 • Charlie Pierce of Esquire's Politics Blog calls in at 10:30am ET / 7:30am PT to talk about how Ebola is being covered by the press
• Bob Cesca of The Daily Banter calls in at 11:30am ET / 8:30am PT to talk about GOP Sen. Ted Cruz hampering Ebola efforts
• The Centers for Disease Control released new guidelines Monday for how health workers should gear up to treat Ebola patients. The guidelines call for face shields, hoods, boot covers and other garb that leave no part of the body exposed.
• President Obama promoted early voting in his home state of Illinois on Monday by casting his ballot near his home in Chicago. Dems across the country are urging supporters to take advantage of early voting ahead of the midterm elections. Earlier voters have traditionally favored Dems.
• Oscar Pistorius was sentenced to five years in prison on Tuesday for killing his girlfriend Reeva Steenkamp with four shots from a handgun on Valentine's Day 2013.
• Monica Lewinsky nearly broke down in tears yesterday as she recounted her experience as "patient zero, the first person to have their reputation completely destroyed worldwide via the Internet." Lewinsky vowed to "give purpose to my past" by speaking publicly about life after her affair with then-President Bill Clinton.