• Charlie Pierce of Esquire's Politics Blog calls in at 10:30am ET / 7:30am PT to talk about Paul Ryan's new reign as Speaker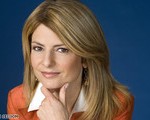 • Attorney Lisa Bloom of Avvo.com calls in at 10:45am ET / 7:45am PT to talk about Bill Cosby's Victims' victory in court yesterday
• Podcaster Jody Hamilton joins us in the Los Angeles Bureau at 11am ET / 8am PT for "Total Trollop Tuesday"
• President Obama says the U.S. is not putting its troops on the front lines in Syria to fight the Islamic State, despite his decision to deploy special operations troops on the ground. The president says it's merely an extension of what the U.S. was already doing.
• Hillary Clinton held a private meeting in Chicago on Monday with the family members of victims of gun violence, including Michael Brown, Trayvon Martin and Tamir Rice. Clinton and the family members discussed their personal stories of loss and the need for gun safety reform.
• GOP presidential candidate Donald Trump will continue his individual negotiations with TV networks over his demands for the upcoming GOP debates. Meanwhile, a few other candidates said Monday they will not sign the letter of debate demands: Chris Christie, Carly Fiorina, and John Kasich.