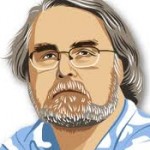 • Charlie Pierce of Esquire's Politics Blog calls in at 10:30am ET / 7:30am to talk about Jonathan Gruber and his Obamacare comments
• Bob Cesca of "The Daily Banter" calls in at 11:30am ET / 8:30am PT to talk about Chris Christie and pork
• Israeli police said four worshipers were killed and six wounded on Tuesday in an attack on a synagogue in an ultra-orthodox Jewish neighborhood in west Jerusalem. It was the deadliest attack in Jerusalem in years and is ratcheting up fears of sustained violence in the city.
• The parents of an Indiana aid worker who was beheaded by ISIS militants said Monday their hearts are battered by their son's death but that they believe his life is proof "one person can make a difference." Peter Kassig, a former Army Ranger, was captured last year while delivering aid in Syria through a relief organization he founded.
• Ahead of a grand jury's decision on whether to indict a police officer in the killing of Michael Brown, Missouri has both called in the National Guard and diminished the role of the Ferguson Police Department. Missouri Gov. Jay Nixon declared a state of emergency Monday as a precaution.
• Republicans and outside groups used anonymous Twitter accounts to share internal polling data ahead of the midterm elections, CNN has learned, a practice that raises questions about whether they violated campaign finance laws that prohibit coordination.