• Happy Veterans' Day!
• Charlie Pierce of Esquire's Politics Blog calls in at 10:30am ET / 7:30am PT to talk about what the Sunday Morning gobshites are saying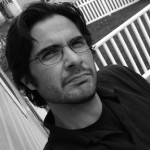 • Bob Cesca of "The Daily Banter" calls in at 11:30am ET / 8:30am PT to talk go over the results of last week's elections
• Iraqi officials say that the head of the Islamic State group, Abu Bakr al-Baghdadi, was wounded in an airstrike in western Anbar province. Pentagon officials said they had no immediate information on such an attack or on the militant leader being injured.
• On the surface, President Obama and Russian President Vladimir Putin were all niceties. But away from the cameras, the two leaders circled each other warily at a global summit in China, coming face to face while relations between their countries continue to deteriorate.
• Craig Spencer, the New York doctor who was diagnosed with Ebola shortly after his return from treating patients with the disease in West Africa, has been declared free of the virus and is expected to be released from Bellevue Hospital today.
• Supreme Court Justice Sonia Sotomayor has issued an order temporarily blocking gay marriage in Kansas. The brief order puts on hold indefinitely a lower-court order clearing the way for same-sex couples to marry despite a ban in Kansas on gay marriage.