• The Rude Pundit calls in at 9:30am ET / 6:30am PT to talk about what the GOP should be paying attention to rather than Benghazi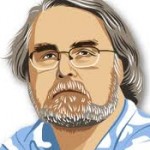 • Charlie Pierce of Esquire's Politics Blog calls in at 10:30am ET / 7:30am PT to talk about the Supreme Court and prayer
• Bob Cesca of The Daily Banter calls in at 11:30am ET / 8:30am PT to talk about the GOP's lopsided response to Benghazi
• The Obama administration will release an updated report today showing how climate change touches every part of the country, as the administration seeks to convince the American public on the need for a crackdown on carbon pollution.
• Speaker of the House John Boehner has ordered the establishment of a new special committee to investigate the 2012 attacks on Americans in Benghazi — but some Democrats don't want anyone from their party to take part in the hearings.
• The Supreme Court has ruled in favor of a town in New York that begins its public board meetings with a prayer. The decision was a loss for two women, Linda Stephens and Susan Galloway, an atheist and a Jew, who filed suit against Greece, N.Y., arguing that they felt coerced to participate in prayers
• Authorities trying to determine what caused a support frame to collapse during an aerial hair-hanging stunt during a circus performance focused on a broken clip holding the apparatus.