• Charlie Pierce of Esquire's Politics Blog calls in at 10:30am ET / 7:30am PT to talk about the tightening screws on Rep. Michele Bachmann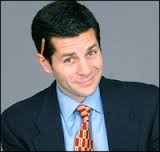 • Comedian Dean Obeidallah calls in at 11am ET / 8am PT to talk about his humorous review of Donald Rumsfeld's new book, "Rumsfeld's Rules"
• A monstrous tornado barreled through the Oklahoma City suburbs, demolishing an elementary school and reducing homes to piles of splintered wood. At least 51 people were killed, including at least 20 children, and those numbers were expected to climb, officials said Tuesday.
• Americans in a new ABC News/Washington Post poll sharply reject a string of scandals that have touched the White House, yet the national survey also finds no backlash against President Obama, at least at this point. His job approval rating is stable, at 51 percent.
• Lawmakers are getting their first chance today to question former IRS Commissioner Douglas Shulman, the man who ran the agency when agents were improperly targeting tea party groups.
• The Senate Judiciary Committee hopes to nail down an elusive compromise on high-tech visas and may punt a controversy over gay marriage to the full Senate as it makes final drafting decisions on immigration legislation that grants a shot at citizenship to millions living in the country illegally.