• Charlie Pierce of Esquire's Politics Blog calls in at 10:30am ET / 7:30am PT to talk about why Sen. Bernie Sanders of Vermont is pissed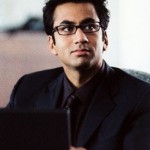 • Actor and activist Kal Penn calls in at 11am ET / 8am PT to talk about his work with Michelle Obama to promote arts in education
• Bob Cesca of The Daily Banter calls in at 11:30am ET / 8:30am PT to talk about the Far Right trying to debunk his Benghazi article and failing
• China summoned the U.S. ambassador and the Defense Ministry warned Tuesday of "serious damage" to military relations after the United States charged five Chinese army officers with hacking into U.S. companies to steal vital trade secrets.
• Voters in six states will choose candidates today for some of November's top congressional election races, including another round of crucial U.S. Senate primaries between the Republican establishment and Tea Party favorites in Kentucky, Georgia and Oregon.
• President Barack Obama is to speak out this week about reports of healthcare delays and deaths at the Veterans Administration in an effort to underscore his determination to fix any flaws in the system.