• Charlie Pierce of Esquire's Politics Blog calls in at 10:30am ET / 7:30am PT to talk about Ann Coulter getting her Twitter ass handed to her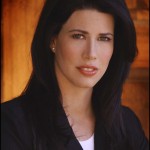 • Melissa Fitzgerald joins us in the Los Angeles Bureau at 11am ET / 8am PT to talk about the upcoming Justice For Vets fundraising concert
• Bob Cesca of The Daily Banter calls in at 11:30am ET / 8:30am PT to talk about the Far Right's aversion to what they call 'hashtag activism'
• A Nigerian government official said "all options are open" in the search for missing schoolgirls that's now being actively supported by U.S. surveillance and reconnaissance aircraft. Boko Haram, the militant group that kidnapped the girls, says that the girls will only be freed after the government releases jailed militants.
• Clay Aiken's opponent in the Democratic primary for North Carolina's Second Congressional District seat, Keith Crisco, died yesterday, according to the company he owned. Aiken said he is suspending all campaign activities in the race that was still too close to call after last week's election.
• A judge on Monday ordered an investigation into the whereabouts of Casey Kasem after an attorney for the ailing radio personality's wife said the former "Top 40" host had been removed from Los Angeles without his children's knowledge.