• Charlie Pierce of Esquire's Politics Blog calls in at 10:30am ET / 7:30am PT to talk about teaching the Bible's story of creation in schools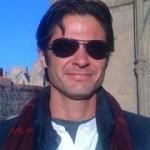 • Bob Cesca of The Daily Banter calls in at 11:30am ET / 8:30am PT to talk about why "Cosmos" isn't teaching the story of Creation
• China demanded that Malaysia turn over the satellite data used to conclude that a Malaysia Airlines jetliner had crashed in the southern Indian Ocean killing everyone on board, as gale-force winds and heavy rain on Tuesday halted the search for any remains of the plane.
• A meeting of the Group of Seven (G-7) nations in The Netherlands Monday helped cement Russia's status as persona non grata on the international stage. The group suspended any meetings of the G-8, which included Russia, until the situation in the Crimean Peninsula changes.
• President Obama is poised to call for an end to the controversial bulk data collection of phone records by the NSA. The White House will outline proposed legislation this week that would bring sweeping changes to the National Security Agency's controversial data collection program.
• Desperate crews digging through the muck and rubble left by a massive mudslide in Washington State found six more bodies Monday, bringing the official death toll to 14. But officials admitted they have little hope that any one else will be found alive.