• Charlie Pierce of Esquire's Politics Blog calls in at 10:30am PT / 7:30am PT to talk about the abject stupidity going on in Florida
• Podcaster Jody Hamilton joins us in the Los Angeles Bureau at 11am ET / 8am PT for Total Trollop Tuesdays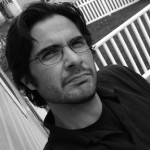 • Bob Cesca of The Daily Banter calls in at 11:30am ET / 8:30am PT to talk about how reporters have covered Hillary's email
• Iranian Foreign Minister Javad Zarif thinks some Senate Republicans need a lesson in civics and international law. He "expressed astonishment that some members of Congress find it appropriate to write leaders of another country against their own president," a press release explained.
• A source close to Hillary Clinton says that the former secretary of state is considering a public statement in the next 48 hours in response to revelations that she used only her personal email account rather than a government address while at the State Department.
• A racist chant by several members of the University of Oklahoma chapter of Sigma Alpha Epsilon that was caught on video has led to outrage from the school's president and the organization's banishment from campus.
• Apple showed off more capabilities of its first-ever watch yesterday and revealed new information about the various models that will range in price from $349 to a luxury $10,000 gold edition.