• Mornay Walters, CEO of Seecrypt Group, calls in at 10am ET / 7am PT to talk about Snowden and keeping your private conversations private
• Charlie Pierce of Esquire's Politics Blog calls in at 10:30am ET / 7:30am PT to talk about the Las Vegas anti-government shootings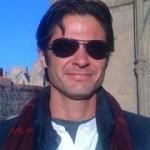 • Bob Cesca of The Daily Banter calls in at 11:30am ET / 8:30am PT to talk about the Far Right's abysmal treatment of POW's
• A Las Vegas couple who gunned down two police officers and a civilian before killing themselves apparently looked at law enforcement as oppressors, officials said Monday. Among the clues: a "Don't Tread on Me" flag the couple placed on one of the police officers they ambushed Sunday.
• Los Angeles Clippers owner Donald Sterling is withdrawing his support for the sale of his team and is asking his lawyer to go ahead with a $1 billion lawsuit against the NBA.
• A political storm over the trade of five Taliban inmates for a captured American soldier intensified on Monday when Obama administration officials told U.S. lawmakers that up to 90 people within the administration – but no members of Congress – were told in advance about the swap.
• Five NATO service members were killed in an apparent friendly fire incident in southern Afghanistan, the international coalition said on Tuesday.