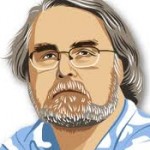 • Charlie Pierce of Esquire's Politics Blog calls in at 10:30am ET / 7:30am PT to talk about how the GOP will deal with Donald Trump
• Podcaster Jody Hamilton joins us in the Los Angeles Bureau at 11am ET / 8am PT for "Total Trollop Tuesday"
• Bob Cesca of "The Bob & Chez Show" podcast calls in at 11:30am ET / 8:30am PT to talk about Scientology and Texas' far right governor
• President Obama criticized recent comments made by 2016 Republican presidential candidates Donald Trump and Mike Huckabee, saying their statements come out of "a culture where those kind of outrageous attacks have become far too commonplace."
• Mike Huckabee defended himself Monday after President Obama slammed his comments linking the Iran deal to the Holocaust as "ridiculous" and "sad." "What's 'ridiculous and sad' is that President Obama does not take Iran's repeated threats seriously," Huckabee said.
• President Barack Obama highlighted his administration's efforts to combat hunger worldwide on Tuesday as he prepared to end a historic return to the land of his father's birth with a speech to the African Union.
• Dozens of women have publicly accused Bill Cosby of assault since late last year. In its new issue, New York magazine photographed 35 of them for a stunning cover story.