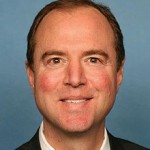 • Rep. Adam Schiff (D-CA) calls in at 10am ET / 7am PT to talk about the Iran nuclear deal
• Charlie Pierce of Esquire's Politics Blog calls in at 10:30am ET / 7:30am PT to talk about John McCain vs. Donald Trump
• Podcaster Jody Hamilton joins us in the Los Angeles Bureau at 11am ET / 8am PT for "Total Trollop Tuesday"
• Bob Cesca of "The Bob & Chez Show" podcast calls in at 11:30am ET / 8:30am PT to talk about the Far Right's Planned Parenthood hoax
• Controversial Republican presidential candidate Donald Trump leads the GOP primary field in a new ABC News/Washington Post poll, while also garnering enough support as a hypothetical independent candidate in the general election to potentially damage his party's chances.
• The Waller, TX County Sheriff's Office yesterday held a press conference about 28-year-old Chicago native Sandra Bland's death during which they released jailhouse surveillance video and said dash cam footage of her arrest would be released today.
• John Kasich enters a crowded field of Republican candidates today, as he becomes the 16th person to declare he is running for president. It will be an uphill climb for the Ohio governor, who's in the three percent range in national polls.