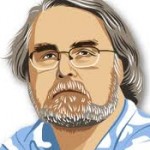 • Charlie Pierce of Esquire's Politics Blog calls in at 10:30am ET / 7:30am PT to talk about Romney's chances in 2016
• Podcaster Jody Hamilton joins us in the Los Angeles Bureau at 11am ET / 8am PT to hang with us for the hour
• Bob Cesca of "The Daily Banter" calls in at 11:30am ET / 8:30am PT to talk about terrorism and free speech
• President Obama delivers his annual State of the Union address tonight, and there'll be few surprises, if any. The White House has steadily rolled out ideas ahead of the President's speech. The plans include a tax hike for the rich that would pay for the president's spending plans.
• ISIS threatened to kill two Japanese hostages Tuesday unless they receive $200 million in 72 hours, directly demanding the ransom from Japan's premier during his visit to the Middle East. Prime Minister Shinzo Abe vowed to save the men, saying: "Their lives are the top priority."
• A new report from Oxfam estimates that the richest 1% will have as much wealth as the other 99% combined by next year. The report comes a day before President Obama is expected to unveil proposals that close tax breaks on the wealthy.
• According to a new NBC / WSJ poll, just 27 percent of Americans now offer a positive rating for Romney, the Republican party's nominee in 2012, compared to 40 percent who give him negative marks.