• Today is Producer Chris' birthday.
• Charlie Pierce of Esquire's Politics Blog calls in at 10:30am ET / 7:30am PT to talk about satire and Charlie Hebdo
• Podcaster Jody Hamilton joins us in the Los Angeles Bureau at 11am ET / 8am PT to hang with us for the hour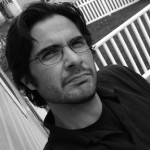 • Bob Cesca of "The Daily Banter" calls in at 11:30am ET 8:30am PT to talk about the GOP taking credit for the economic turnaround
• In a rare admission, the White House yesterday said it made a mistake in not sending a higher-level official to represent the U.S. at the unity rally in Paris on Sunday, in the wake of last week's terror attacks. The U.S. was represented at the rally by Ambassador to France Jane Hartley.
• Two YouTube and Twitter accounts belonging to the U.S. military were hijacked by ISIS supporters today, in an incident the military commander referred to as "purely a case of cybervandalism." CENTCOM said its operational networks were "not compromised"
• Search and rescue teams have recovered the cockpit voice recorder from AirAsia Flight 8501, the second black box recovered in as many days, Malaysian authorities said.
• The Ohio State Buckeyes won the first College Football Playoff national championship yesterday, upsetting Oregon 42-20.