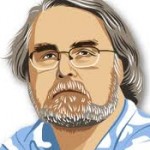 • Charlie Pierce of Esquire's Politics Blog calls in at 10:30am ET / 7:30am PT to talk about President Obama's budget that's pissing off the GOP
• Podcaster Jody Hamilton joins us in the Los Angeles Bureau at 11am ET / 8am PT to hang with us for the hour
• Bob Cesca of "The Daily Banter" calls in at 11:30am ET / 8:30am PT to talk about Mike Huckabee and marriage equality
• President Barack Obama on Monday argued the country's economic security and national security are intertwined while unveiling his $4 trillion budget at the Department of Homeland Security. "Our economy flourishes when our country is safe and secure," he said.
• Sen. Rand Paul (R-KY) said yesterday he's heard of cases where vaccines lead to "mental disorders" and argued that parents should be the ones to choose whether they vaccinate their children, not the government. Paul is a former ophthalmologist.
• Forecasters from Philadelphia to Portland, Maine, have warned that "flash freezing" could make roads dangerously slippery a day after large amounts of snow fell on much of the East Coast.
• Robin Williams' children and wife have gone to court in a fight over the late comedian's estate. In papers filed in December, Williams' wife, Susan, says some of the late actor's personal items were taken without her permission.