• Larry Schweiger, President and CEO of The National Wildlife Federation, calls in at 10am ET / 7am PT to talk about the environment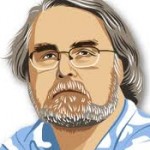 • Charlie Pierce of Esquire's Politics Blog calls in at 10:30am ET / 7:30am PT to talk about strange doings in Kansas GOP politics
• Bob Cesca of The Daily Banter calls in at 11:30am ET / 8:30am PT to talk about why we shouldn't ignore crackpots like Ted Nugent
• Faced with tight budgets at the end of two lengthy wars the Pentagon is proposing cuts that could reduce the Army to its lowest level since just before the U.S. entered World War II. "Our recommendations favor a smaller and more capable force, putting a premium on rapidly deployable, self-sustaining platforms," Defense Secretary Chuck Hagel said.
• Three Republican Arizona state senators who voted for Senate Bill 1062 say they made a bad decision in a rushed process and are now asking Gov. Jan Brewer to veto the right to refuse service bill. They join Sens. McCain and Flake in asking her to veto the anti-LGBT legislation.
• Temperatures are expected to drop again in the Great Plains, Northeast and Midwest. In Illinois, ice blocks are tearing up the shore line of one river and threatening a bridge, while Minneapolis has restricted parking until April because emergency vehicles can't get through snow-clogged streets.