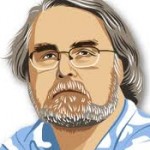 • Charlie Pierce of Esquire's Politics Blog calls in at 10:30am ET / 7:30am PT to talk about this year's political Oscars
• Podcaster Jody Hamilton joins us in the Los Angeles Bureau at 11am ET / 8am PT for Total Trollop Tuesdays
• Bob Cesca of The Daily Banter calls in at 11:30am ET / 8:30am PT to talk about MSNBC's image as a Liberal network
• Senate Majority Leader Mitch McConnell announced he is changing tactics in an attempt to break a stalemate with Democrats ahead of Friday's deadline when the Department of Homeland Security will run out of money. He now wants to separate immigration from the DHS funding matter.
• President Obama warned governors on Monday that a shutdown of the Department of Homeland Security would economically have a "direct impact" on their states. "These are folks that, if they don't have a paycheck, are not going to be able to spend that money in your states," he warned.
• Bill O'Reilly has threatened The New York Times over its coverage of his Falklands War controversy. O'Reilly said to a reporter who asked him for comment, "I am coming after you with everything I have…You can take it as a threat."
• Veterans Affairs Secretary Robert McDonald apologized Monday for misstating that he had served in the military's special forces. McDonald made the erroneous claim while speaking to a homeless veteran last month.