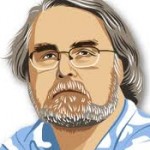 • Charlie Pierce of Esquire's Politics Blog calls in at 10:30am ET / 7:30am PT to talk about the marriage equality battle in Alabama
• Podcaster Jody Hamilton joins us in the Los Angeles Bureau at 11am ET / 8am PT for Total Trollop Tuesdays
• Bob Cesca of "The Daily Banter" calls in at 11:30am ET / 8:30am PT to talk about Mike Huckabee's new gay-bashing documentary
• The Supreme Court is inappropriately signaling it intends to clear the way for gay marriage across the nation, Justice Clarence Thomas complained Monday in a bitter dissent to the court's refusal to block the start of same-sex marriages in Alabama.
• The Obama administration is nearly ready to send Congress legislation that would formally authorize war against ISIS, administration sources indicate. The legislation outlines the military goals and strategy against ISIS in Iraq and Syria.
• As international leaders grapple with how to confront renewed violence in Ukraine, President Obama says that the U.S. is exploring "all options" to pressure Russia to respect Ukraine's territorial integrity — including sending defensive arms to Kiev.
• A relentless storm that dumped more than two feet of snow on some parts of New England is tapering down today. The storm brought 23 inches of snow to Boston, making it the seventh-largest snowfall total ever recorded there.