• Charlie Pierce of Esquire's Politics Blog calls in at 10:30am ET / 7:30am PT to talk about failed efforts to bash Hillary Clinton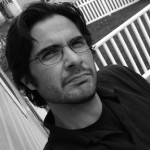 • Bob Cesca of The Daily Banter calls in at 11:30am ET / 8:30am PT to talk about Sarah Palin's ALS Ice Bucket Challenge
• Syria said today it's willing to cooperate with the United States to put down the Sunni Muslim terrorist group known as ISIS. But the foreign minister warned against any attacks against ISIS targets in Syria — without Syrian permission. The US Military has said it will be ready for anything.
• Michael Brown's relatives said goodbye Monday to the 18-year-old who was shot and killed by a police officer, remembering him as a "gentle soul" with a deep and growing faith in Christianity and ambitions that one day "the world would know his name."
• The earthquake that jarred Napa caused $1 billion in damage, officials estimated Monday as business owners mopped up high-end vintages that spilled from barrels and bottles and swept away broken glass in the rush to get the tourist hotspot back in shape for the summer's final holiday weekend.
• "Breaking Bad" and "Modern Family" won the Emmys for best drama series and best comedy series at last night's Emmys 2014 awards hosted by Seth Meyers.