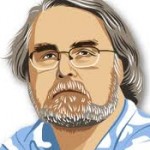 • Charlie Pierce of Esquire's Politics Blog calls in at 10:30am ET / 7:30am PT to talk about the events in Ferguson, Missouri
• Bob Cesca of The Daily Banter calls in at 11:30am ET / 8:30am PT to talk about the Sarah Palin Channel
• Protesters filled the streets of Ferguson, Missouri again after nightfall Monday, and officers trying to enforce tighter restrictions at times used bullhorns to order them to disperse. Police deployed noisemakers and armored vehicles to push demonstrators back. Officers fired tear gas and flash grenades.
• Amid ongoing tension in Ferguson, President Obama announced on Monday that he's sending Attorney General Eric Holder there on Wednesday to work with community leaders through the issues dredged up by the shooting of unarmed 18-year-old Michael Brown.
• Iraqi and Kurdish forces recaptured Iraq's largest dam from Islamic militants Monday following dozens of U.S. airstrikes, President Barack Obama said, in the first major defeat for the extremists since they swept across the country this summer.
• Don Pardo, the durable television and radio announcer whose booming baritone on shows like "Saturday Night Live" and "Jeopardy" became as much a part of the cultural landscape as the shows and products he touted, died Monday in Arizona. He was 96.