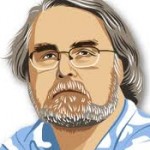 • Charlie Pierce of Esquire's Politics Blog calls in at 10:30am ET / 7:30am PT to talk about Trump's helicopter rides at the fair
• Podcaster Jody Hamilton joins us in the Los Angeles Bureau at 11am ET / 8am PT for "Total Trollop Tuesday"
• Bob Cesca of "The Bob & Chez Show" podcast calls in at 11am ET / 8am PT to talk about the GOP's apocalyptic Obama fantasies
• Bob Corker, GOP Chairman of the Senate Foreign Relations Committee, has announced in a "Washington Post" op-ed his opposition to the Iran nuclear accord, dealing what's seen as a big blow to the Obama administration as it fights to win congressional approval of the agreement.
• Wisconsin Gov. Scott Walker heard some cheers and jeers from Midwesterners at the Iowa State Fair on Monday, as he gave them the 20-minute pitch for his White House bid. "I am not intimidated by you, sir, or anyone!" Walker said to a pro-union heckler.
• Intelligence community officials involved in the review of Hillary Clinton's emails have flagged 305 messages for further inspection, new court documents released Monday say. The emails were found in a sampling of 20 percent of the total 30,000 emails.