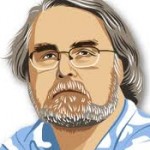 • Charlie Pierce of Esquire's Politics Blog calls in at 10:30am ET / 7:30am PT to talk about SCOTUS removing Watergate-era campaign finance protections
• Bob Cesca of The Daily Banter calls in at 11:30am ET / 8:30am PT to talk about swirling misinformation about ObamaCare
• Search crews hunting for the missing Malaysia Airlines jet have failed to relocate faint sounds heard deep below the southern Indian Ocean that officials said were consistent with a plane's black boxes since they were first heard over the weekend, the head of the search operation said Tuesday.
• The Senate officially passed legislation to extend unemployment insurance benefits Monday afternoon, leaving their bill in the hands of a House that is not just divided between Democrats and Republicans, but among members of the GOP on how to proceed.
• Oscar Pistorius told the court at his trial in South Africa Tuesday that he was "more into" the girlfriend he's accused of murdering, Reeva Steenkamp, than she was into him. Steenkamp's mother, June, was again present in court Tuesday but betrayed no reaction as she listened to hear his testimony.
• The aunt of a 1-year-old girl rescued at sea by the U.S. Navy says the baby's fever is gone, and she is responding well to medication after showing salmonella-like symptoms before her family's sailboat broke down.