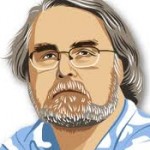 • Charlie Pierce of Esquire's Politics Blog calls in at 10:30am ET / 7:30am PT to talk about Cliven Bundy and Donald Sterling's racism
• Bob Cesca of The Daily Banter calls in at 11:30am ET / 8:30am PT to talk about Sarah Palin's unbelievable speech to the NRA last weekend
• Rep. Michael Grimm, R-N.Y., has been indicted by the Justice Department for mail, wire and health care fraud and perjury, among other charges. The Republican congressman, who has maintained his innocence, was booked at the New York FBI office in lower Manhattan Monday morning.
• The sponsor backlash against Los Angeles Clippers' owner Donald Sterling is in full swing. At least 12 sponsors said Monday they were dropping or suspending sponsorships with the team following allegations of racist comments by team owner Donald Sterling.
• The European Union named another 15 people Tuesday who will face sanctions over the crisis in Ukraine; among them, a number of high-ranking Russian officials. The sanctions, which go into immediate effect, include asset freezes and travel bans.
• Communities across the South were on high alert Tuesday as a devastating storm system that left at least 27 people dead threatened to pack a one-two punch on the hardest-hit areas of Alabama and Mississippi.