• Charlie Pierce of Esquire's Politics Blog calls in at 10:30am ET / 7:30am PT to introduce the new GOP Royal Regent of Crazy People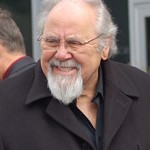 • Legendary "Laugh In" creator George Schlatter joins us in the Los Angeles Bureau at 11:30am ET / 8:30am PT to tell us about his career
• South Korean officials say their earlier conclusion that the ferry that sank last week, leaving more than 300 people dead or missing, had made a sharp turn shortly before the disaster was incorrect, and that the vessel made a less severe turn than initially reported.
• A 16-year-old boy scrambled over an airport fence, crossed a tarmac and climbed into a jetliner's wheel well, then flew for five freezing hours to Hawaii – a misadventure that forced authorities to take a hard look at the security system that protects the nation's airline fleet.
• Vice President Joe Biden told Ukrainian political leaders in Kiev Tuesday that the United States stands with them against "humiliating threats" and encouraged them to root out corruption as they rebuild their government.
• An air search for the missing Malaysia Airlines jet was suspended for a day due to stormy weather on Tuesday as the painstakingly slow sonar scanning of a targeted patch of seabed continued.