• Today is April Fool's Day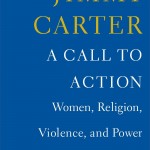 • President Jimmy Carter calls in at 9:30am ET / 6:30am PT to talk about his new book, "A Call To Action"
• Charlie Pierce of Esquire's Politics Blog calls in at 10:30am ET / 7:30am PT to talk about the GOP's courtship of Sheldon Adelson
• Race car driver and environmental activist Leilani Munter calls in at 11am ET / 8am PT to talk about running cars on electricity
• Bob Cesca of The Daily Banter calls in at 11:30am ET / 8:30am PT to talk about his problems with discourse on Twitter
• Open enrollment on the Affordable Care Act marketplaces closed on Monday. The Associated Press, citing government officials, reported that the health care overhaul was on track to beat expectations, with more than 7 million Americans signing up for health insurance by the deadline.
• The Malaysian government said late Monday that the final words received by ground controllers from the missing Malaysia Airlines Boeing 777 on March 8 were "Good night Malaysian three-seven-zero," not the previously stated and slightly unusual, "all right, good night."
• Authorities said Monday they now believe 22 people remain missing in the aftermath of a massive mudslide that covered a northwestern Washington town with muck and debris, killing at least 24 people.