• Karl Frisch of Bullfight Strategies calls in at 9am ET / 6am PT to give us his view of the Cheney Family marriage equality fight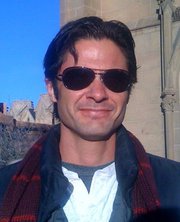 • Bob Cesca of The Daily Banter calls in at 11:30am ET / 8:30am PT to talk about GOP efforts to sabotage the Affordable Care Act
• Rep. Trey Radel, R-Fla., who earlier in the day pleaded guilty to misdemeanor possession of a controlled substance, announced Wednesday night he would be taking a leave of absence to get "intensive in-patient treatment."
• Email messages released yesterday by Republican congressional investigators reveal that at least five days before the launch of HealthCare.gov, the White House apparently "feared" negative publicity from the site's now-famous 'System Is Down' warning.
• Senate Majority Leader Harry Reid, frustrated by Republicans who have been blocking President Barack Obama's nominees, could invoke the so-called "nuclear option" this week – a controversial move that would change Senate rules over GOP objections to prevent filibusters of presidential nominations.
• The U.S. and Afghanistan have agreed on the language of a bilateral security pact that could clear the way for thousands of U.S. troops to train and assist Afghan forces after the NATO combat mission ends in 2014.