• Democratic Strategist Karl Frisch calls in at 9am ET / 6am PT to talk about the continuing troubles of Trump and the GOP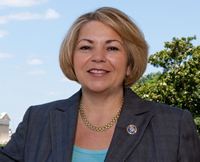 • Rep. Linda Sanchez (D-CA) calls in at 10am ET / 7am PT to talk about Trump and about the SCOTUS decisions
• Health care reform expert Jacki Schechner calls in at 10:30am ET / 7:30am PT for "Jacki's Healthcare Corner"
• Michael Tomasky of "The Daily Beast" calls in at 11am ET / 8am PT to talk about racism at the DC Senate office buildings
• Despite earlier inflammatory comments about Mexican "rapists" illegally crossing the U.S. border, business mogul and Republican presidential candidate Donald Trump said Wednesday that he will win the Latino vote if he earns the GOP nomination in 2016.
• The South Carolina House gave final legislative approval to a bill taking down the Confederate flag from the Capitol grounds, a stunning reversal in a state that was the first to leave the Union in 1860 and raised the flag again at its Statehouse more than 50 years ago to protest the civil rights movement.
• The Baltimore mayor fired the troubled city's police commissioner Wednesday, saying that a recent spike in homicide rates weeks after a black black man died of injuries in police custody required a change in leadership.