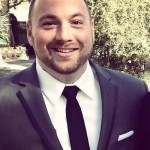 • Democratic strategist Karl Frisch calls in at 9am ET / 6am PT to talk about the awful things Rudy Giuliani has said about the president
• Health care reform expert Jacki Schechner calls in at 10:30am ET / 7:30am PT for "Jacki's Healthcare Corner"
• Three NYC residents were charged yesterday with providing material support to ISIS. Officials allege they devised a plan to travel to Turkey and then to Syria for the purpose of waging jihad. If they were not successful in joining ISIS, they allegedly planned to carry out terrorism in the U.S.
• House and Senate GOPers remain at odds over how to fund the Department of Homeland Security. With just 2 days left before funding for DHS runs out, there is still great uncertainty about whether and how lawmakers can get a bill to Obama's desk in time to avoid a partial shuttering of the department.
• President Barack Obama urged immigrants thrown into limbo by legal wrangling to keep planning for eventual relief, professing confidence Wednesday that his deportation directives won't be thrown out in court.
• Up to eight inches of snow fell on the Deep South on Wednesday as another storm brought nasty weather to the region, walloping places that were hit hard just last week. Relief in the form of higher temperatures is expected today.