• Sen. Debbie Stabenow (D-Mich.) calls in at 9am ET / 6am PT to talk about the GOP's threats to defund Homeland Security
• SiriusXM Insight 121 host Dean Obeidallah calls in at 10am ET / 7am PT to talk about Muslim comedy and Jon Stewart
• Health Care Reform expert Jacki Schechner calls in at 10:30am ET / 7:30am PT for Jacki's Healthcare Corner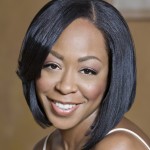 • Actress and activist Tichina Arnold joins us in the Los Angeles Bureau at 11am ET / 8am PT to hang with us for the hour
• Declaring that ISIS "is going to lose," President Obama outlined the request he sent Congress Wednesday to formally authorize war against the militant group. The request authorizes the president to fight ISIS for three years with no restriction on where U.S. forces can go.
• House Speaker John Boehner implored Senate Dems yesterday to "get off their ass" and help the Senate GOP majority advance a bill that funds the Department of Homeland Security while de-funding President Obama's recent executive actions on immigration.
• The North Carolina man accused of killing three Muslim students in a dispute over parking spaces had earlier run-ins with his neighbors, sometimes while wearing a handgun on his hip. His wife said the killings had nothing to do with anyone's faith.