• Democratic Strategist Karl Frisch calls in at 9am ET / 6am PT to talk about the GOP's expensive lawyers to sue President Obama
• Filmmmaker CC Goldwater calls in at 10am ET / 7am PT to talk about the political news of the day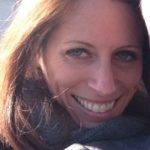 • Health care reform expert Jacki Schechner joins us in the Los Angeles Bureau at 11am ET / 8am PT for "Jacki's Healthcare Corner"
• A second American from the Minneapolis area has been killed while fighting for the Islamic State of of Iraq and Syria, according to family and friends. The death follows that of Douglas McCain, an American who grew up in Minnesota, who was killed while fighting for ISIS in Syria over the weekend.
• Shirley Sotloff, the mother of an American writer being held hostage by ISIS, pleaded directly with the leader of the Iraqi terror group in a new video, begging him to "please, release my child."
• President Obama has yet to decide whether to authorize air strikes against ISIS targets in Syria, the White House insists. More and more, though, the signals and nuance from the administration and the military suggest such a campaign could be coming.
• The death toll of the deadly Ebola outbreak in West Africa continues to accelerate with 1,552 now dead, according to the World Health Organization.