• The Rude Pundit calls in at 9:30am ET / 6:30am PT to talk about the continuing madness of gun violence in America
• Eric Boehlert of Media Matters for America calls in at 10am ET / 7am PT to talk about more troubles for Jeb Bush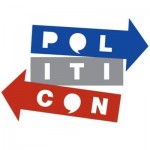 • Simon Sidi of "Politicon" calls in at 10:30am ET / 7:30am PT to talk about this weekend's fan-fast for political junkies
• Voice Deity Jim Ward joins us in the Los Angeles Bureau at 11am ET / 8am PT for Maximum Mookage Monday
• In the wake of a fatal shooting at a community college in Oregon, Hillary Clinton plans to propose four measures to tighten regulations on those who manufacture, sell and purchase guns. She will outline her new proposals in two town halls today in New Hampshire.
• Rep. Jason Chaffetz (R-UT) said Sunday that he is officially running for speaker of the House of Representatives, meaning he will challenge Majority Leader Rep. Kevin McCarthy (R-CA). Chaffetz argues he could win broader support than McCarthy among the fractious House GOP conference.
• CBS News is reporting that Vice President Joe Biden is nearing a decision on whether to run for president, and it could come as early as within the next seven to 10 days, according to three people familiar with his deliberations.