• Eric Boehlert of Media Matters for America calls in at 10am ET / 7am PT to talk about the Far Right's continuing obsession with Benghazi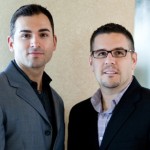 • Paul Katami & Jeff Zarrillo, two of the plaintiffs in the Prop 8 case, join us in studio at 11:30am ET / 8:30am PT to talk about their upcoming wedding
• Forgoing the largely self-deprecating front he's donned the past several years, President Obama during his prepared roast Saturday to the White House Correspondents' Association dinner instead opted to go after some members of the Washington, D.C., cast who've complicated his five-and-a-half-year tenure in the Oval Office.
• V. Stiviano sat for a bizarre interview with Barbara Walters Friday afternoon, in which she proclaimed the Clippers owner is NOT a racist and that she was not his girlfriend, but his right hand man.
• Authorities are trying to determine what caused a support frame to collapse during an aerial hair-hanging stunt during a circus performance in Rhode Island yesterday, sending eight acrobats crashing to the ground.
• The Oscar Pistorius murder trial resumed Monday after a two-week recess, with the defense team calling its fourth witness in an attempt to bolster the double-amputee athlete's case that he killed his girlfriend by mistake last year.