• The Rude Pundit calls in at 9:30am ET / 6:30am PT to talk about the GOP and race in Ferguson
• Dean Obeidallah, columnist for The Daily Beast, calls in at 10:30am ET / 7:30am PT to talk about Rick Perry possibly doing time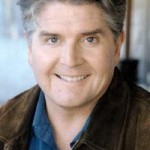 • Voice Deity Jim Ward joins us in the Los Angeles Bureau at 11am ET / 8am PT for Maximum Mookage Mondays
• The father of Michael Brown, a black 18-year-old shot to death by a white police officer in Ferguson more than two weeks ago, pleaded yesterday for a "day of silence" as he lays his son to rest today.
• The U.S. government says an American journalist held hostage for about two years by an al Qaeda-linked group in Syria has been released. The Obama administration and the hostage's family identified the man as Peter Theo Curtis of Massachusetts.
• The San Francisco Bay Area's strongest earthquake in 25 years struck the heart of California's wine country early Sunday, igniting gas-fed fires, damaging some of the region's famed wineries and historic buildings, and sending dozens of people to hospitals.
• Sir Richard Attenborough, actor in such movies as "Miracle on 34th Street" and "Jurassic Park" and Oscar-winning director of "Ghandi", died yesterday at age 90.