• The Rude Pundit calls in at 9:30am ET / 6:30am PT to talk about Cliven Bundy, Donald Sterling, and the tenacity of racism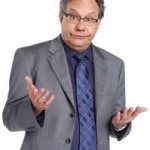 • Comedian Lewis Black calls in at 9:50am ET / 6:50am PT to talk about his special "Old Yeller" on Epix
• Eric Boehlert of Media Matters for America calls in at 10am ET / 7am PT to talk about Conservatives jumping on and off the Bundy Bandwagon
• An audio recording said to be of Los Angeles Clippers owner Donald Sterling making racist comments to his girlfriend is genuine, the woman's lawyer said Sunday, although he insisted his client was not the one who leaked the tape to the media.
• The storm of condemnation around Sterling intensified as the Clippers staged a silent protest at a playoff game, wearing their shirts inside out to hide the team's logo, and everyone from President Barack Obama to NBA legends Magic Johnson and Michael Jordan expressed disgust at the comments.
• A broad tornado sliced through the Little Rock vicinity Sunday, killing at least 16 people and leaving behind a miles-long path of destruction as a powerful system provided a violent kick-start to the nation's tornado season.
• During a speech at the National Rifle Association's annual convention on Saturday, Sarah Palin criticized President Obama's administration for treating suspected terrorists too gingerly.