• The Rude Pundit calls in at 9:30am ET / 6:30am PT to talk about racist idiots losing their racist businesses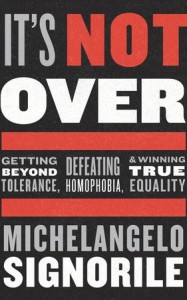 • SiriusXM Progress 127 host Michelangelo Signorile joins us in the Los Angeles Bureau at 11am ET / 8am PT to talk about his new book, "It's Not Over"
• GOP presidential hopefuls descended on New Hampshire over the weekend as part of the Republican Leadership Summit, a two-day event that drew about 500 activists and the party's entire 2016 field to the Crowne Plaza Hotel in Nashua.
• Bill Clinton offered his first comment Sunday on his wife Hillary's presidential bid, saying: "I'm proud of her." The comment was the first time he'd weighed in on Hillary Clinton's second run for the White House. Clinton continues her campaign today in New Hampshire.
• The Secret Service arrested another person last night for attempting to scale the White House fence. A statement says "this individual was immediately arrested by USSS Uniformed Division Officers," and says the person was taken into custody and charges are pending.
• A boat crowded with migrants capsized in the sea north of Libya overnight, leaving at least 24 confirmed dead with the death toll expected to rise into the hundreds, Italy's Coast Guard said Sunday. The boat was headed to Italy and highlights a growing immigration crisis in the European Union.